Pirate Series:
Short Sword PirateEdit
Description:
I love pirate men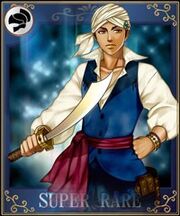 Attack: 777
Defense: 777
Summon Cost: 6
Rarity: * * * * * *
Skill Bonus: 2% chance of an automatic victory
Long Sword ProtectorEdit
Description:
I protect the treasure keeper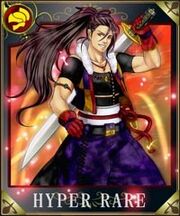 Attack 444
Defense 888
Summon Cost: 8
Rarity: * * * * * * *
Skill Bonus: All cards gain a 3% damage bonus
Dallas Plum PirateEdit
Description: K
eep the secret treasure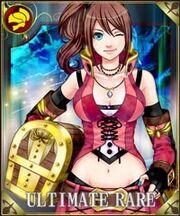 Attack: 555
Defense: 555
Summon Cost: 11
Rarity: * * * * * * * *
Skill Bonus: Your hand gains one additional card from a friend for free
How to obtainEdit
These cards can only be obtained by having pirate points at Abatarraz event.
Ad blocker interference detected!
Wikia is a free-to-use site that makes money from advertising. We have a modified experience for viewers using ad blockers

Wikia is not accessible if you've made further modifications. Remove the custom ad blocker rule(s) and the page will load as expected.